Mydayda's Platform
Mydayda is a user-centered digital health platform designed to seamlessly connect patients, clinicians and caretakers to streamline health care and put users in control of their health and health data. With real-time health monitoring and a wealth of support and educational features, Mydayda gives users the power to manage their own health while offering simplicity to health care teams. With constantly evolving services and capabilities, Mydayda is ceaselessly pushing to advance digital health care. State-of-the-art data management and analytics make any clinical practice more accurate and predictive while reducing the heavy burdens of modern healthcare.
Patient and Clinical Web Portal
Mydayda's Web Portals allow patients to view their health data and trends while giving clinical teams the ability to view aggregated and prioritized health data of entire populations. Automated Alerts warn clinical teams when patient data exceed specified thresholds.
Clinical Mobile App
Clinical teams stay connected with patients with the Clinical Mobile App and can continuously monitor their patients and reach out via text messaging and video calls within the App.
Patient Mobile App
Patients have their personal health record at their fingertips and the ability to share their health data with the Patient Mobile App. Building their own health record, patients provide clinical teams valuable health data while engaging with their own health care to improve health outcomes.
Wearable Devices
Operating with any Bluetooth enabled devices, including wearables, Mydayda lets users record and transmit health data simply, remotely, and continuously.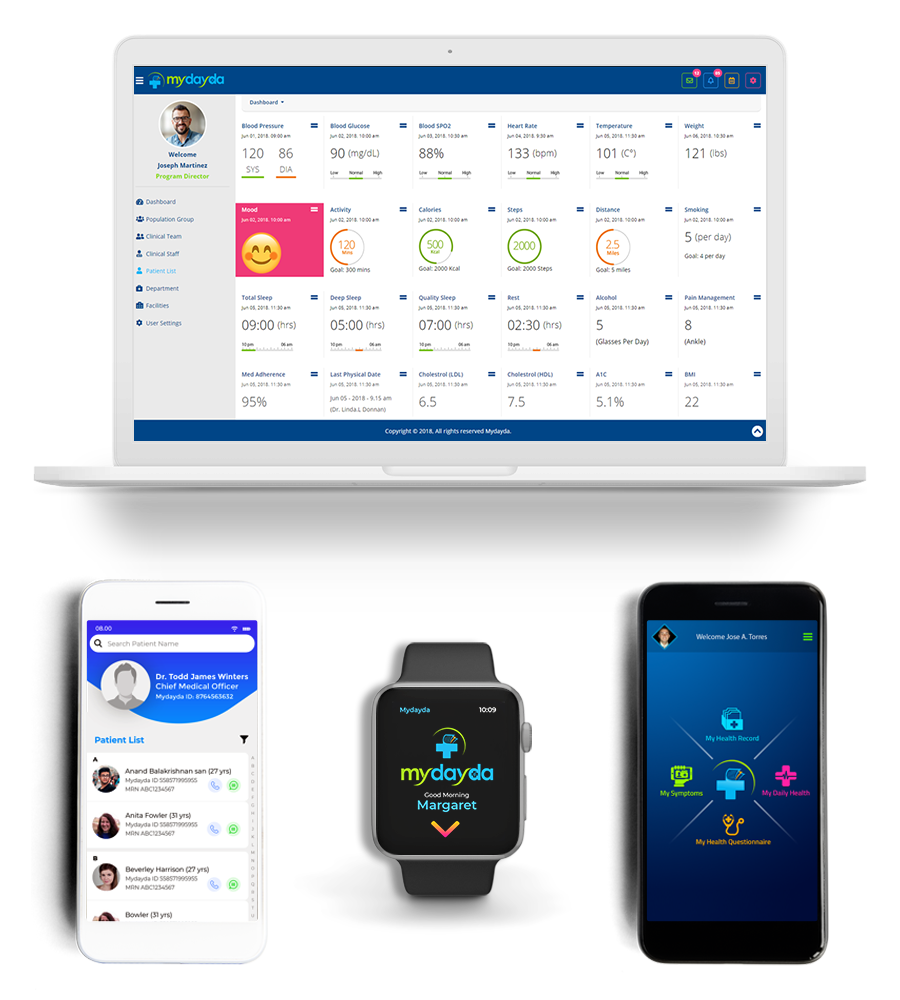 Android iOS
Mydayda is fully compatible with both iOS and Android mobile platforms.
Our Features
Versatile
Mydayda provides a robust clinician web portal designed to support any medical practice model. With diverse tools you can easily manage your entire patient population and customize how patients are organized (e.g. by clinic, physician care team, or treatment group).
Review up-to-date patient generated health data and directly communicate the care plan to the patient and care team. Review customized alerts, dynamic patient reports, billing dashboards, and detailed user analytics. These tools allow a practice manager to optimize revenue and improve practice efficiencies and care.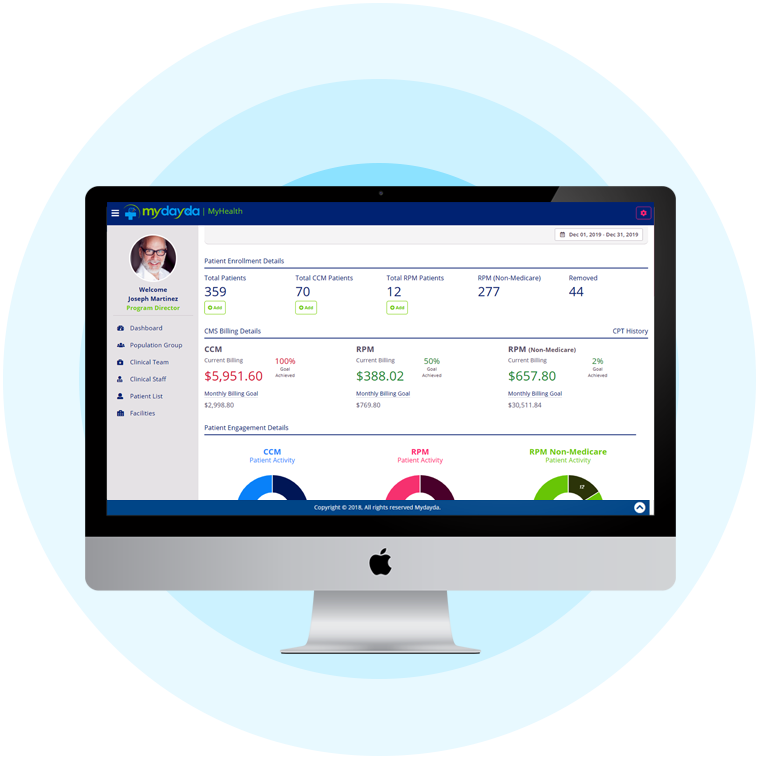 Interoperability
Mydayda integrates natively with EMRs like Epic and Cerner to seamlessly connect patients to their care team. Patients can utilize the Mydayda App and Web Portal to augment their health record and transmit information anywhere at any time. Care teams can access the EMR within Mydayda reducing time and streamlining health care while maintaining HIPAA compliance every step of the way.
Secure Messaging
Mydayda's Secure Messaging not only provides instant and encrypted connectivity between patients and care teams, but also provides care teams with a powerful tool to monitor patient health and improve interoffice communications. Care teams can receive alerts for patient readings that fall outside defined parameters and reach out to the patient directly through the Mydayda platform. Patients can ask questions or share photos and care teams can respond as well as provide materials like educational documents, videos, and more.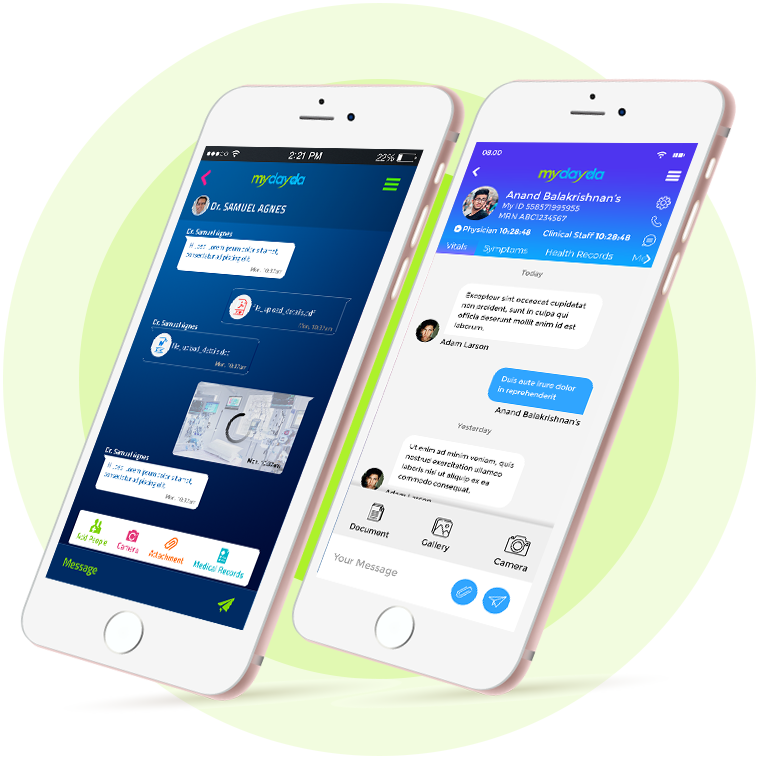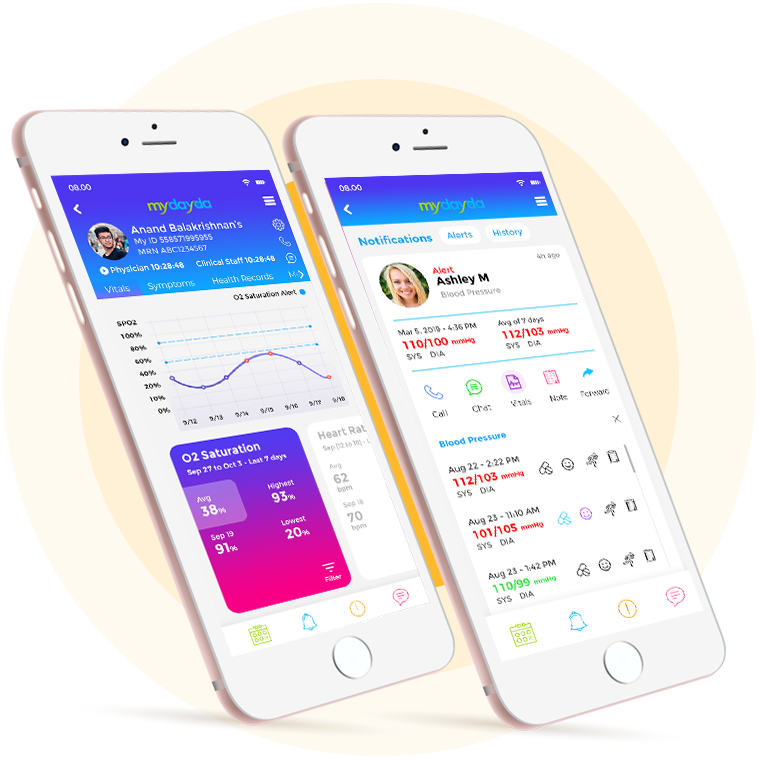 Invaluable
Information is the cornerstone of decision making. This is most relevant and critical in medical care. Not having the information available when you need it leads to poor decisions and worse results.
Mydayda provides real-time updates for vital signs, symptoms, mood, habits, nutrition, and medication use through patient generated health data and remote monitoring devices. Customizable alerts allow the care team to make necessary and timely interventions if results fall outside of defined parameters. This leads to improved adherence and outcomes while reducing costly hospitalizations. Alert notifications also facilitate additional reimbursement through CMS incentive programs.
READ MORE
Scalable
Create on demand dynamic patient reports with up-to-date data. Reports succinctly present patient generated health data such as vital signs, glucose readings, mood and symptoms for efficient review. Because this data is instantaneously synchronized with the web portal, you have the most current information even as your patient population grows or changes. There is no waiting for monthly or quarterly reports to adjust the plan of care or conduct outreach. Additionally, these reports can be used to educate patients and increase engagement.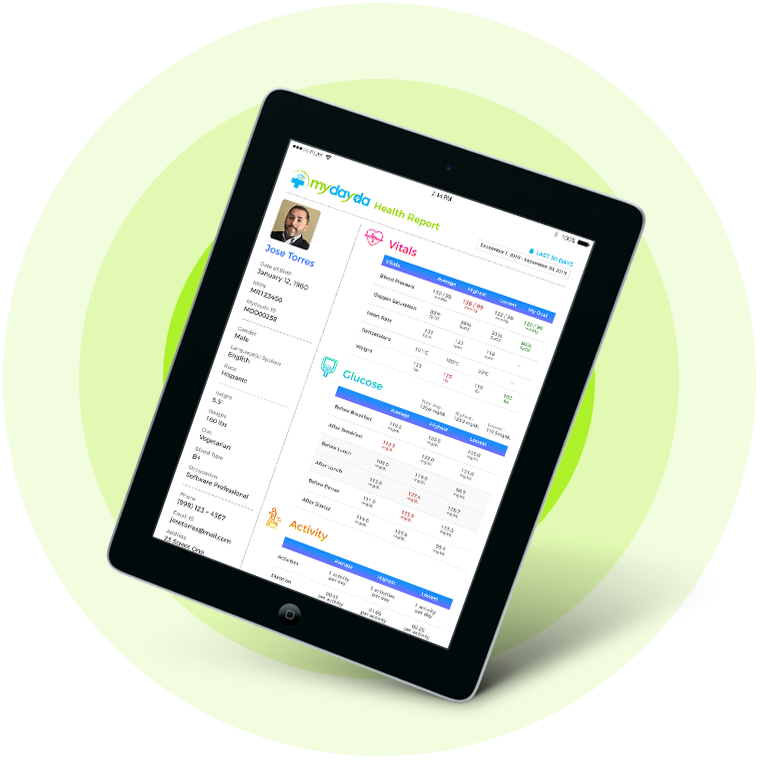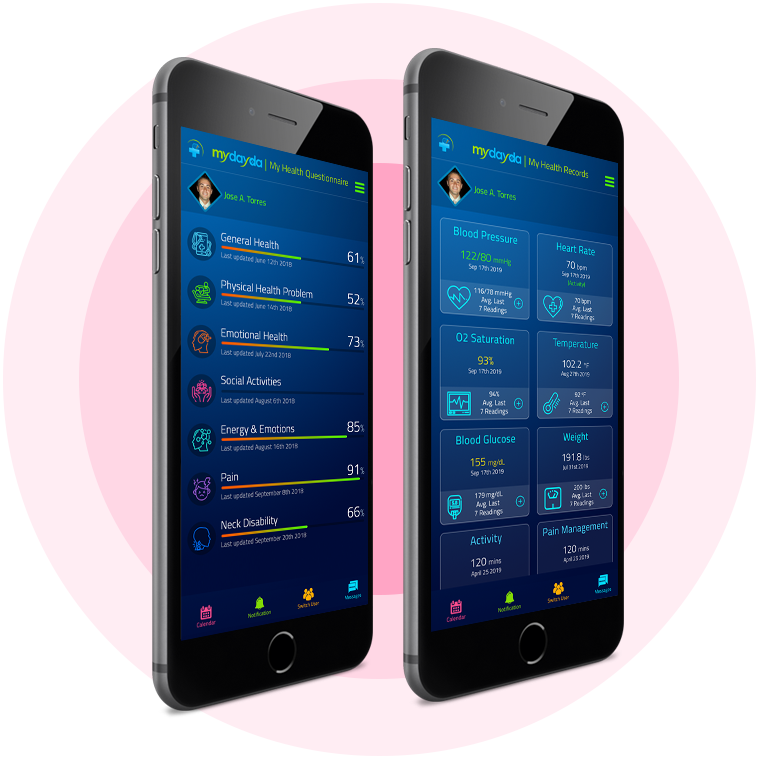 Comprehensive Care
Collect the information needed to comprehensively care for patients. Use included questionnaires to assess social determinates of health, transportation needs, safety and more. Mydayda also recognizes that every practice and specialty is unique. Create customized questionnaires that you can easily incorporate into your clinical workflows. This not only creates more complete care; it also improves practice efficiency and saves time.
Device Agnostic
Mydayda is specifically designed to be device agnostic allowing it to connect to countless monitoring devices. Obtain clinical data outside of office visits including blood pressure, heart rate, o2 saturation, temperature, weight, blood glucose and more. This information is instantaneously uploaded for review and can be incorporated directly into the EMR. Create improved capabilities for population management, close monitoring during complex treatments, and post hospitalization follow-up.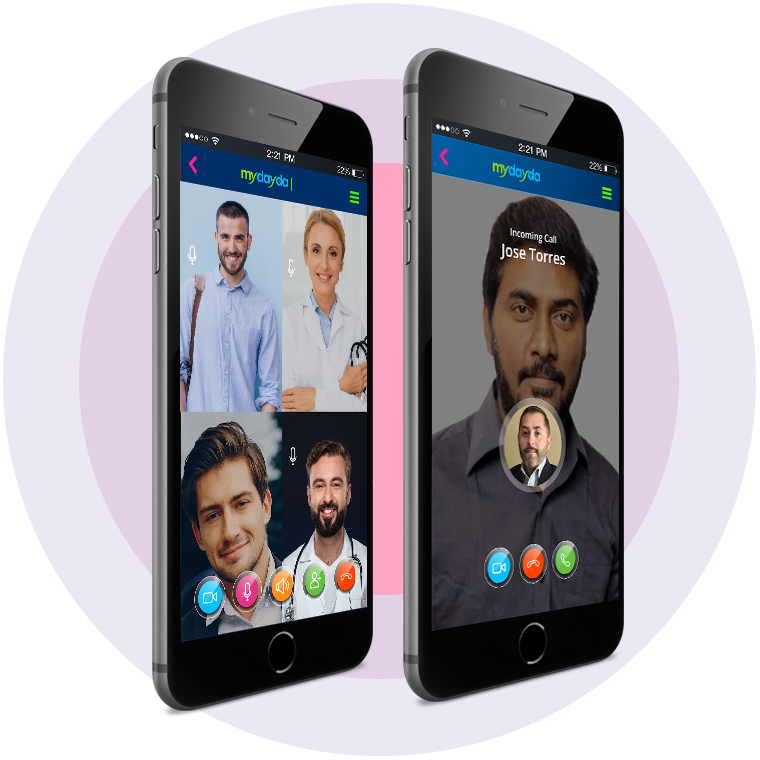 Mydayda Video Calling
Mydayda's Video Calling feature allows patients to speak with care teams and others directly within the platform. Care teams can see and hear patients to discuss health topics and perform visual examinations which provide expanded care options. This versatility creates added convenience for everyone while increasing connectivity. Design appointment types that best meet the clinical need.
Request a Demo
See how easy Mydayda is to operate and integrate into your workday.