Our Mission Against Cancer
Undergoing treatment for cancer can be overwhelming. Mydayda was designed to work with the patient and the oncology team to make the process less intimidating and provide the most supportive environment possible. We are inspired by the strength of the cancer community and work tirelessly to promote patient-centered, compassionate, and holistic care.
Mydayda's Pillars of Care - Oncology

ENGAGE


Driven to fostering dynamic collaboration between patients and their oncology team.

EMPOWER


Engender strength and self-advocacy during every step of a cancer journey.

ENRICH


Provide the critical technology needed to revolutionize care possibilities.
Monitor Symptoms, Mood & Vital Signs In Real-Time
We know that clinical information is essential for treatment decisions but having this information in real-time can be lifesaving. Being acutely aware of potential adverse effects from cancer or its treatment empowers the care team to expeditiously intervene and adjust the plan of care.
Mydayda's platform is more than passive monitoring. Create custom alerts which inform the care team when results fall outside of defined parameters. This enhanced ability improves adherence and reduces medical complications and hospitalizations.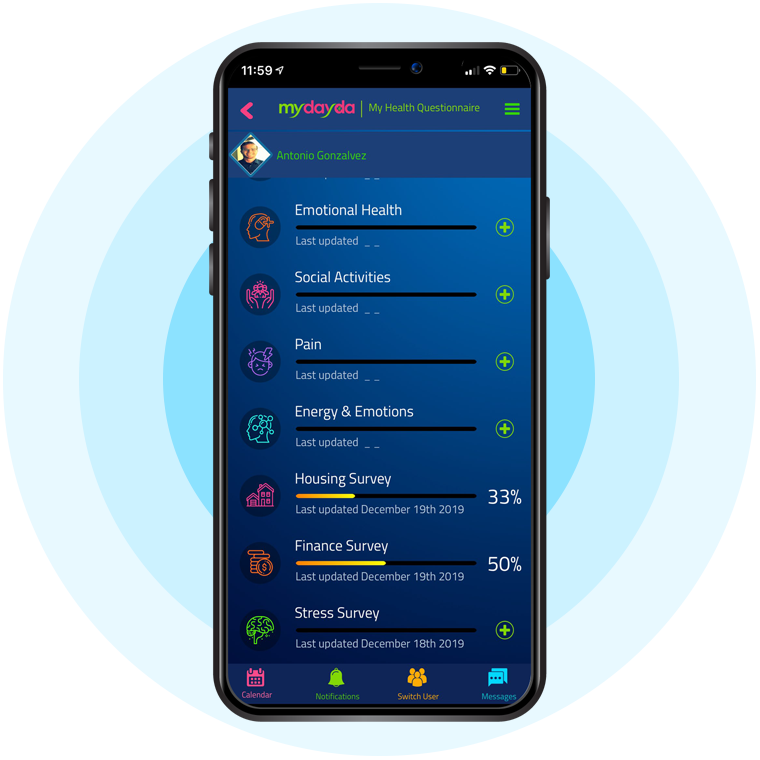 Provide Holistic Care
It is important to always consider the whole patient in the treatment of any disease. This is especially true in treating cancer. Decisions are complex and the true understanding of a person's values, surroundings, and support system are critical. Obtaining this information is easy with Mydayda.
Included questionnaires can assess social determinates of health, barriers to care, safety, and more. In fact, the options are endless with the ability to create custom questionnaires that best meet your needs.
"Providing individuals with easy access to their health information empowers them to be more in control of decisions regarding their health and well-being"
Efficient & Complete Patient Education
Medical information and education can be confusing, overwhelming, and time consuming. Mydayda's customizable library allows the clinician to provide patient specific and general educational materials. This can be instantly updated and utilized for pre-appointment review and as a reference source.
Incorporating the library into treatment protocols as part of patient learning is an invaluable asset that saves time and improves a patient's understanding of their diagnosis and options.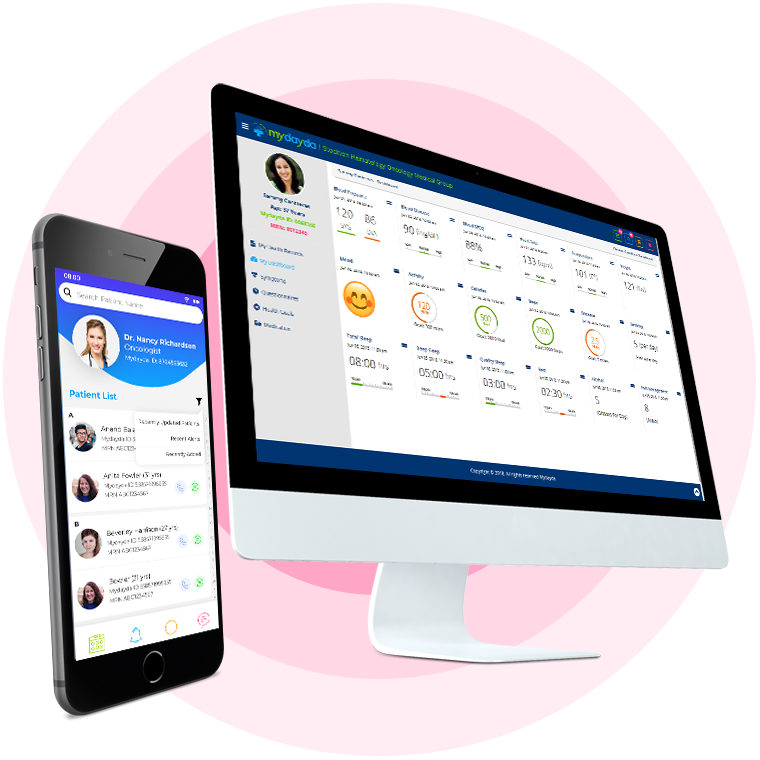 Optimize Clinical Workflows
Mydayda's apps and portal are ideally designed for the complex management of cancer. All information is presented in an easy to read, organized format that supports the best and most efficient care possible. Track and trend all patient generated health data via health dashboards. Create custom populations and use encrypted messaging to easily communicate care plans to the clinical team and patients.
Add one more tool in the fight against cancer